Born in Los Angeles, California Stephen Wallace discovered his love for music at an early age. The largely self- taught pianist/songwriter developed his skills through intense listening as well as personal and formal study.

Stephen has written close to 300 songs crossing an array of styles, yet with a contemporary flair. His new CD, "There'll be Jazz in Heaven" features 12 of his compositions. Ranging from straight-ahead jazz with running bass-lines, to smooth jazz with R&B flavors, to soulful and contemplative ballads; the songs of this album are inspirational vocal jazz at its finest.
Produced at TMC Studios in Hendersonville, TN, "There'll be Jazz in Heaven" features expert musicianship, a full array of vintage instruments as well as live strings, horns and back-ground vocals.

"The goal of this project", Stephen says, "is to breathe inspiration into the heart and soul of the listener through message and music." Stephen continues, "...I hope to communicate that God is love, that He is an awesome person who can be known through His Son and experienced through His Spirit; and that heaven is a place of incredible joy and diversity.

"Think about this", says Stephen, "our existence on earth is just a shadow of the reality we will experience there...I am convinced...there will be complete artistic expression...and yes, I do believe there will be jazz in Heaven!"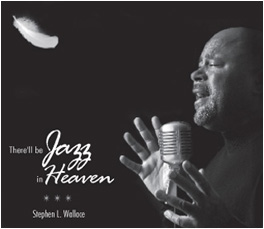 Audio samples
To purchase this CD or for more info about Stephen visit: