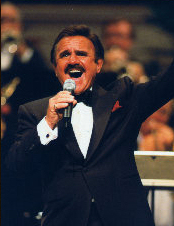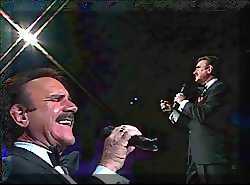 Dave Boyer, a native of York, PA, now resides in Atlanta, GA. Boyer was well-known in his younger years as the Master of Ceremonies at the "500 Club" in Atlantic City, NJ. At the advice of his manager, he changed his name to Joey Stephens and success came quickly. He performed with Frank Sinatra, Dean Martin & Jerry Lewis, Sammy Davis, Jr. and Milton Berle. He also appeared with Martin & Lewis on the Today Show when it originated from Atlantic City.
The life of a young, promising performer, who served in the armed service, saw the dependence for drugs and alcohol ruin a marriage and career. In 1965, less than a year after his wife, June, left him, his father Reverend Ralph Boyer passed away. Dave (or Joey, as he was called) decided at that point to end his self-inflicted miserable life. He began his journey to the railroad tracks in the town of Marietta, where he was going to kill himself, when he passed a small church. The church triggered long forgotten memories of his childhood, of his father and family, and of the happiness he once had. This flood of joyful memories brought him to his knees in tears, and he forced himself to make his way to a phone. Confused and in pain, he called his brother who was a pastor at his late fathers church. His brother convinced him to stay where he was until he could get there. After hours of praying together on that fateful night, God reached down to Dave and touched his soul. Joey Stephens was laid to rest forever, and Dave Boyer was reborn through the Lord. This miracle was not over - after a two year separation, June and their daughter returned to Dave to begin building a Christ-centered life together.
Since 1966, Dave Boyer has been bringing the word of God to hundreds of thousands of people in all corners of the country. Dave carries with him a message of joy to the people of the church and world. His message is simple, You are not alone in your day to day struggles, God is always with you. Dave Boyer's life is a living testimony to the fact that God is forever with us, everyday, and everywhere.
Dave's unique style of Big Band Jazz/Gospel music reaches people of all ages. Dave's ministry and musical style continues to gain popularity with people from all walks of life in all age groups. Dave performs with church bands, orchestras, and solo. He has performed and recorded several albums with legendary composer and director Ralph Carmichael.
Christian Jazz Artist Network founder David Arivett recently attended a concert with Dave Boyer and the Tulsa Praise Orchestra and shares that, "Dave Boyer is still swingin' and singing for the Lord!! His voice is stronger than ever, and his heart and attitude for God and desire to uplift the lives of those attending the concert was a joy to behold!"
Here are just a few of Dave's CD's!
Dave Boyer With Ralph Carmichael
To purchase these CD's or for more info about Dave Boyer visit: