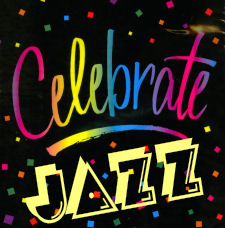 "Tain't no sin to step out of your skin and dance around in your bones!"
Subscribe to our newsletter here!
The Christian Jazz Artists Network celebrates and promotes the diversity and infinite variety of jazz music! We believe that jazz is a gift from the Creator to be enjoyed and savored! The Creator loves diversity and so do we! Jazz music, with its roots coming from spirituals, church, and the blues, has birthed a myriad of musical styles. Therefore we do not promote one style of jazz only. Neither do we discriminate on this basis either in any way. Instead, we celebrate and promote jazz in it's many forms, encouraging an open heart, open mind, and open attitude of acceptance and appreciation for the creativity and infinite musical ideas of others!
The Christian Jazz Artists Network is interdenominational, and acceptance of one another, regardless of what race we are, or what church we attend is of utmost importance. We also encourage acceptance of others who may not share our faith or theological persuasions. Jesus taught all His followers to, "love your neighbor as yourself" and that includes accepting others as equals. After all God loves everyone and we are all created in His image - not just us Christians! We are exhorted in the Bible to "Accept one another as Christ has accepted you, to the glory of God". (Romans 15:7)
A Christian jazz artist is simply a Christian who plays, writes, arranges, and records jazz to the glory of God! Whether at a jazz worship service, in a church or concert setting, or even in a club or studio, a Christian jazz artist plays his/her music to the glory of God and delights in doing so! In this way, the Christian jazz artist can celebrate his/her musical gifts and offer them up with thanksgiving and joy, while sharing joy, jazz, and faith with others! Notice in the definition above it states that the Christian jazz artist plays his/her music to the glory of God. Moreover, the Bible says "Whatever you do, do all to the glory of God" (I Cor. 10:31).
Read article " What Is A Christian Jazz Artist Anyway?
Read Article "Jazz: Sinful Or Spiritual?"
Our latest Compilation features our network members in a wide variety of jazz flavors-outstanding writing, vocals, and instrumentals! Straight ahead, Latin Brazilian, Fusion/Funk and Contemporary. Jazz that packs a 'spiritual punch'!
Complete track list and audio excerpts here!
Available for purchase on: i-Tunes, Amazon, and CD Baby
~~~~~~~~~~~~~~~~~~~~~~~~~
Compilation 1 features our network members playing great jazz arrangements of favorite hymns! This is a, "must have" recording and destined to become a classic..."one of the finest collection of jazz hymns ever compiled!!" Covers a wide variety of jazz flavorings!
Complete track list and audio excerpts here!
Only 13.99!

~~~~~~~~~~~~~~~~~~~~~~~~~~~~~~~~~~~~~~~~~~~~~~~~~~~~~~~
Psalms, Hymns, and Spiritual Songs
Our second compilation CD features our network artists... 14 great tracks featuring a wide variety of jazz flavorings!! Straight Ahead, Smooth, Swing, Funk, Latin, Contemporary and more!
Only 13.99!

Complete track list and audio samples here!
Audio samples from our network artists are just a click away! Choose from 100's of CD's to preview!
Hear CJA Network Artists Music Now!
A Music player will open up when you click on the link and you will be able to choose mp3 samples from all of our network artists
~~~~~~~~~~~~~~~~~~~~~~
We support and contribute to Heifer International!
"These children don't need a cup, they need a cow."- Dan West, Founder
Heifer has a vision and goal for our planet...ending hunger around the entire world and saving the earth in the process! Can you envision a world without hunger? Heifer does and has a game plan to make it happen!
Read more about Heifer's History >> here!
~~~~~~~~~~~~~~~