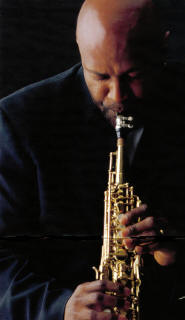 Stellar Award nominee saxophonist Ron Brown has played behind such greats as Diana Ross, Natalie Cole, Al Jarreau, Anita Baker, the late great Ella Fitzgerald, Whitney Houston, Joe Sample, David Benoit, Soul II Soul and the incomparable Stevie Wonder and the list goes on.
Click here to see Ron Brown's testimony on video!
Whatever his endeavor may be Ron continues to dig deep into roots of every musical influence that crosses his path. Although his musical gifts are the forefront of his identity, Ron actively pursues a life in ministry and promoting gospel music. Notably, Ron has shared his music and testimony in Japan. Being fluent in the Japanese Language, Ron not only can share his music, but also can hold gospel workshops, speak his testimony, and minister in their native language.
Ron a former teacher, and youth mentor lives with his family in Los Angeles, California and has an office in Japan. Ron is also the founder of the Urban Dreams Foundation, whose goal is to inspire and motivate young urban people to reach their potential by teaching success principles through the arts. Ron Also holds gospel workshops locally and nationwide. He has even developed his own choir, which is comprised of people of all nationalities united to be the "Spirit of Unity Choir". His passion for gospel and music has fueled the creation of "Jazz in the Spirit" concerts that feature some of the top artists in jazz. Ron shares that," I'm still a jazz musician...but 90% of what I do is playing in churches and doing ministry, and God is sustaining me!" " The soulful cries of old Southern spirituals are embedded in today's jazz and remain a powerful part of gospel music today."
Ron has also formed the, "Urban Jazz Network". The goal of the Urban Jazz Network is to introduce Jazz to a wider audience. The Urban Jazz Network is a network of great musicians and artists brought together by Ron Brown.
Ron Brown actively makes appearances all over the world. His live concerts and church performances continue to enamor audiences everywhere his ministry goes.
To purchase these CD's or for more info about Ron Brown visit: