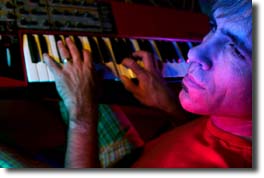 A melodic imagination and an extensive education in arranging, composition, orchestration, and conducting have carried David Diggs to the heights of jazz artistry and to the top of the jazz charts. David lets his music speak for itself, making a strong, upbeat statement. With a unique blend of instrumentation -- a mixture of jazz and rhythm & blues, Diggs brings a dimension of 'blue-eyed soul' to his music.
Under the influence of Michel Legrand, Claus Ogerman and Bob James, Diggs has honed his arranging and producing talents, which have been featured on projects by Quincy Jones, Irene Cara, Jonathan Butler, Richie Furay, The Brothers Johnson, Pat & Debby Boone, as well as David's own albums. His album Streetshadows was a top ten entry on BILLBOARD'S Jazz Album Chart for 26 weeks. David has appeared on TV programs, including The Tonite Show and Midnite Special, as well as feature films. He has produced/arranged several Grammy-nominated albums. Inspired by his passion for living, David Diggs' music is revealing and realistic, unrestrained and upbeat. Up front and honest, Eklektrik - his latest release - unites David's old-fashioned heart with a contemporary jazz sound.
Just released!! New CD jazzwerk includes 6 new songs, plus all 12 songs from Eklektrik DVD (double CD on one).
New songs feature Rachel Diggs, Steve Lukather, Joey Heredia, Vinnie Coliauta, Brandon Fields, Bobby Rodriguez, and others...
Jazzwerk Eklektrik
Audio Excerpts
To purchase these CD's visit