Todd Johnson is recognized as a pioneer of the six-string bass. With his custom Yamaha six-string bass, equipped with a midi pick-up, Johnson uses an innovative technique where he plays chord changes and bass lines simultaneously. Additionally his use of the midi interface, a technology that allows his instrument to sound like many instruments at the same time, adds both harmonic color and texture that further defines his unique sound. Bass Player magazine's Ed Friedland says, "Todd can simultaneously swing like Ray Brown and accompany like organist Jimmy Smith."
As an integral member of the critically acclaimed jazz trio of guitarist Ron Escheté, Johnson excels as both a supporting musician and a seasoned soloist. He is consistently cited for his contributions of skill, originality, and versatility, as well as his ability to sound as if he is simultaneously playing multiple instruments. Group leader Ron Escheté says "Todd . . . can sound like a second guitar player or even an organ or electric piano." Zan Stewart of the Los Angeles Times writes that Johnson's six-string bass along with Escheté s seven-string guitar "give the musicians an amazing range of sounds and approaches." The group is repeatedly hailed as the trio that sounds like a quartet.
Since joining forces with Ron Escheté, Johnson has recorded 5 CDs with the trio, including their latest effort entitled Live at Rocco. The trio has performed at numerous festivals, concerts and club dates throughout the United States. Johnson has recently completed his first solo CD entitled A Solo Offering.
In addition to his work with the Ron Escheté Trio, Johnson has performed and recorded with other artists, including Mike Stern, Dave Weckl, Scott Henderson, Plas Johnson, Sam Most, Joe LaBarbera, Poncho Sanchez, Paul Humphrey, and Frank Gambale.
As a seasoned performing artist, Todd Johnson has developed a rich philosophy encompassing his spiritual, educational and achievement-oriented sides. Johnson sees his talent as a gift to continually enhance and develop.
Todd has developed an incredible new course for bass...
THE WALKING BASS LINE MODULE SYSTEM takes the "mystery" out of learning to play walking bass lines by breaking it down into small "bite size" chunks that anyone can "digest!"

In Volume 1 - Triad Module System, learn: Strong beat / weak beat theory • Ear training / play what you hear • Blues Changes • Autumn Leaves Changes • Control major and minor triads • Chromatic approaches from above & below • Solid, organized practice plan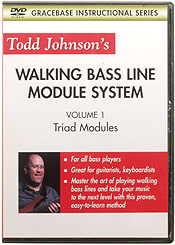 For more information visit here!