A musician of stunning range and complexity, Peggy Duquesnel's achievements in music are a testament to her incredible devotion to the art of music. The recording projects and concerts that have been part of her musical journey run the gamut from pure elegance to down-home jazz, and have teamed her up with some of today's most sought after musicians. She is a jazz pianist, vocalist, and songwriter and her versatility and intelligence is truly outstanding!
Peggy has performed with Wayne Brady, Tony Danza, Debbie Reynolds, Spike Jones and also has recorded with numerous artists including Henry Mancini, Monica Mancini, Pocket Change, Ric Flauding and John Pattitucci. She toured domestically and internationally with Dionne Warwick.
Peggy performed as featured keyboard artist for Roland Corporation U.S. and Kawai America Corporation for trade shows, conventions and educational seminars.
She has been stadium keyboardist for the Anaheim Angels baseball team at Edison Field as well as keyboardist at the Arrowhead Pond for the Mighty Ducks NHL Hockey Team.
Reviews
"Pianist Peggy Duquesnel has a way with standards that recalls the stellar trios of Bill Evans, Hal Gainer, and Martial Saint."-- LA Jazz Scene CD Review
"Duquesnel's clean, wide-ranging voice doesn't sound particularly like any other singer's. She can be sweet and pure when appropriate, than mournful and jazzy. Her melancholy style is particularly effective"... --Orange County Register
For more information about Peggy
Visit her web site
" Where Is Love?" is her first release as a featured artist, and highlights Peggy's vocal and keyboard performances with an astounding team of talent assembled expressly for this major recording project. Expertly crafted to make an eloquent first impression, her musicality is fully displayed as she performs with both a full orchestra and a jazz trio.
Where Is Love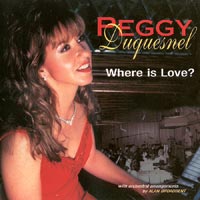 To purchase this CD visit here!
"Give Thanks" is a solo piano offering of popular hymns and worship choruses.
Give Thanks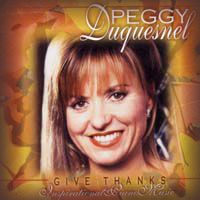 To purchase this CD visit here!