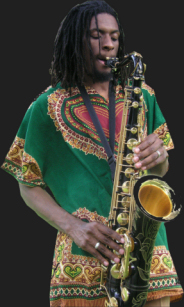 Quamon Fowler is a native of Fort Worth, Texas. He started his musical journey on the tenor saxophone at the age of twelve and has been composing music since he was fifteen. While attending O.D. Wyatt High School, he placed first in the NAACP ACT-SO competition in Charlotte, North Carolina in 1996 and Atlanta, Georgia in 1998. He also earned first chair tenor saxophone in the All-State Jazz Ensemble in 1998. After graduating from Wyatt, Quamon attended Weatherford College where he was under the direction of jazz guitarist Tom Burchill.
A year later, Quamon felt he needed to deepen his music studies. He decided to attend Southern University in Baton Rouge, Louisiana. Here, he studied with world-renowned clarinetist Alvin Batiste. By the end of July 2000, Quamon released his first independent CD project entitled Introducing Quamon Fowler. In this album, Quamon combined straight-ahead jazz and soul in order to create a unique sound.
In the spring of 2002, Quamon was selected to be a part of the Betty Carter Jazz Ahead Program, which also took place at the Kennedy Center. In October of the same year, his composition, "The Reinforcement," was reviewed and selected as one of the top three compositions in the first annual ASCAP Foundation Young Jazz Composer's Awards competition. As a recipient of the ASCAP Award, he was able to perform at the ASCAP headquarters in New York as a part of the annual Jazz Wall of Fame induction ceremony. In spring of 2003, Quamon was selected to participate in the Jazz and the New Generation program, hosted by Dr. Billy Taylor. Later in the year the saxophonist was able to perform at the Ravinia Jazz Festival directed by David Baker. In December of 2003, Quamon had the honor of performing with Nathan Davis, Curtis Fuller, George Cables, and Jimmy Woody as a part of the Paris Reunion Band in Dubai, United Arab Emirates.
Quamon's spiritual relationship with God has truly influenced his musical career. He is a believer in Jesus Christ. Therefore, his relationship with Him is expressed in his music. Through being raised in church, Quamon has learned how to be passionate, patient, aggressive, and intense in both his life and music. He knows that God has chosen him to be His instrument.
Quamon describes his music as, "liberating instrumental music with a Christian focus. The stylistic approach consists of a mixture of straight-ahead, fusion, and bebop jazz combined with gospel, groove, and Texas Soul".
~~~~~~~~~~~~~~~~~~~~~~~~~~~~~~~~~~~~~~~~~~~~~~~~~~~~~~~~~~~~~~~~~~~~~~
Review
"Fort Worth Texas native Quamon Fowler detours through South Louisiana and provides a funky soulful set of originals. Quamon Fowler, student of the renowned jazz teacher Dr. Alvin Batiste at Southern University of Baton Rouge, steps out into the electrons with a contemporary jazz/neo-Hard Bop offering in his debut CD, " Introducing Quamon Fowler". This maiden voyage is populated with smartly constructed, hook-filled compositions that showcase Fowler's tightly-focused, ultra-dense tone contrasted against the ethereal back drop of Arlington Jones' Fender Rhodes and/or Joey Carter's vibraphone. Fowler is well-schooled in Hard Bop as well as R&B. His playing betrays only a small nod to John Coltrane, choosing instead a more Michael Brecker meets David Sanborn direction. Introducing... is what Hard Bop would sound like had it waited 40 years to be born. "Eternal Moments" and "Inner Me" are the best of the lot, but the lot are all mighty fine. Fowler's blues playing is well represented on "D-Town Blues", which expand the definition of that old 12-bar format in a most enjoyable and unexpected way. A fine young talent deserving of greater recognition. ~ C. Michael Bailey ALL ABOUT JAZZ

Introducing Quamon Fowler The Vision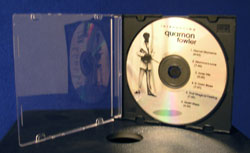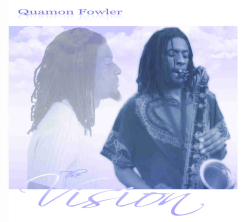 | | | | |
| --- | --- | --- | --- |
| Eternal Moments | | Light Of The World | |
| D-Town Blues | | Within A Love So True | |
| That Magical Feeling | | Mission Statement | |
To purchase these CD's visit here!
For more info about Quamon Fowler visit: