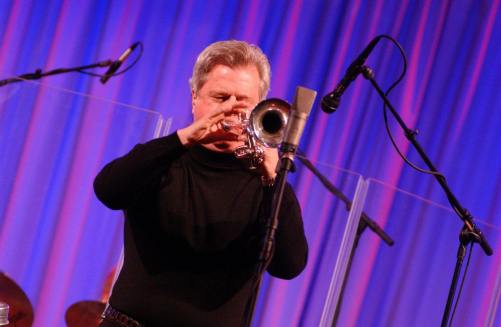 Grammy award arranger, producer, trumpet player, flugal horn, and flute player are just some of the titles to describe mufti-talented Fletch Wiley! Starting back in the 1970's as band leader for Andre Crouch, Fletch has go on to record 13 solo instrumental records! He also has recorded, written, and arranged on numerous projects all over the globe! Fletch is presently freelancing (writing/arranging/producing/playing).

Here are some highlights of Fletch's musical career:
Grammy Award winning arranger (1974) "Take Me Back", Andráe Crouch; soul gospel category
Album of the Year (1978; Jazz) "Ballade", Fletch Wiley, Campus Life magazine
Arranger/producer of "Music Machine", children's recording which sold over 1,500,000 units
"Lullabies and Nursery Rhymes" (1979); Dove Award, children's category (producer/arranger)
Grammy nominations (1982, 1983, 1984) for Children's category (producer)
"The Art of Praise, Volume Two" (1987), Fletch Wiley "This album of just flute and guitar brings gospel to new age music." Billboard Magazine, January 24, 1987
"Hide 'em in Your Heart , Vol. 1 & 2" (1991, 93) Dove award winning children's album featuring Steve Green (arranger)
"Urban Reel" (1992), Fletch Wiley; inaugural project on Visual Music Group; featuring Abraham Laboriel, Bill Maxwell, and Alex Acuña.
Jingle for Luther's Barbecue 25th Anniversary (1999; HKP advertising)
Original score for the movie Guardians (2000, WYSIWIG Films, San Francisco)
Fletch shares that, "The depth of the musical experience never ceases to amaze me. Whether it is playing in Istanbul at a jazz cafe, or an outdoor festival in Norway, writing a film score, or producing a record or jingle, I am in awe of the creative powers that God has given us. Even though I have been doing this awhile (over 30 years), the stark terror and sheer joy of beginning a new work will keep your heart pounding. There is no greater gratification!"
Fletch has a new "live" recording, "Ornaments Of The Universe" and Alec Acuna, Abe Labrioel, Bill Maxwell, Loston Harris and other friends join him for this new release!
Review
"Whether you're a jazz aficianado, a member of the church choir, or just a lover of good music, "Ornament of the Universe" is a wonderful CD that you will enjoy. But more than that... as a musician myself, I just have to say how profoundly inspirational this recording is to me. Alex Acuña... who can forget his legendary performances with Weather Report? His drumming was one of the reasons I fell in love with music in the first place, and to hear him, and Abe Laboriel, Bill Maxwell, Loston Harris and others together backing up Fletch is a super musical gem!" Blaine Fallis
Ornaments Of The Universe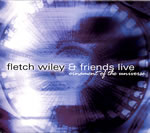 (Audio Excerpts)
Angelic Praise
Nightwatch
Amazing Grace
To Purchase this CD visit here.
Visit Fletch Wiley's Web Site here.