Larry Cangelosi, virtuoso of a whole arsenal of woodwinds, began his professional career in his early high school years, performing in Chicago and mid-west area studios, shows, hotels and other venues as a featured soloist. While attending the University of Illinois he teamed up with some of the finest musicians ever assembled. After performances at Newport and New Orleans Jazz Festivals Larry went on tour sponsored by the US State Department. The tours included trips to Europe and the Iron Curtain countries.
Upon graduation from college, Larry went back to Europe and spent most of his time in Paris submersing himself in the Paris jazz scene. This led to landing contracts with CBS/Columbia Records as a soloist backing up other French jazz artists. He was able to forge friendships with some of the hottest jazz musicians in Paris!
Larry eventually returned to the USA and was immediately recruited by Fred Waring and the Pennsylvanians for a two year tour of the USA. In the years that followed, he has worked with such greats as Sarah Vaughn, Della Reese, Dee Dee and Cecil Bridgewater, The Tommy and Jimmy Dorsey Orchestras, The Glenn Miller Orchestra, Gary Burton, Gary Mulligan, Tommy Tedesco, Hal Blaine, The Temptations, Oliver Nelson, and many others!
Current accomplishments include appearances on PBS Television specials and soloist (on Alto Sax) for the ABC television broadcasts of the Special Olympics.
Larry has currently been playing various gigs on the West Coast and abroad and is actively sought out as a studio musician, performer, arranger, soloist, and educator.
Recently Larry played/recorded sax on several projects for keyboardist/composer and founder of the CJA Network David Arivett's recording projects "Jazzed And Glad" , "Island Fun ", and "Jazzed In Church". Here are some samples from those CD's featuring some of Larry's amazing sax playing!
| | |
| --- | --- |
| Larry Do You Bop? | |
| Beauty And The Beast (Tenor Sax) | |
| How Great Thou Art (Tenor Sax) | |
| Have Thine Own Way Lord | |
| Rio (Tenor Sax) | |
| Mucho Love Mucho Laughter (Tenor Sax) | |
| All Is Well (Soprano Sax) | |
| Prayerful Cry (Alto Sax ) | |
Here is Larry's solo CD release!
BreakThrough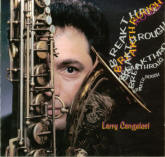 Happy Am I
'Round Midnight
Just Us Two
To purchase the "Breakthrough" CD or to contact Larry Cangelosi e-mail him at: Larrycangelosi@yahoo.com